Adam Rosendahl and Julien Thomas are Partners for Youth Empowerment trained social artists who run LATE NITE ART, an evening of creativity, live music and local food. The event currently takes place in Vancouver, Canada and Oakland, USA. Here, they tell us how Partners for Youth Empowerment and the Creative Community Model helped them to build the idea, and talk about why creativity is so important for society.
Tell us about Yourselves
I strongly believe that we need to creatively re-imagine how we relate to each other and the world, as this can inspire and bring hope to those around us.
Adam: I'm a 25 year old social artist, facilitator, and youth worker living in Oakland, California. In 2000, at the age of 13, I attended a Power of Hope summer camp. For the first time in my life I was encouraged to take creative risks and make myself vulnerable in front of my peers. In one week, this experience allowed me to open my heart up to other people. I came home and something was different. Something had cracked open inside me. I went back every year until I turned 18. At that point I became one of the youngest counselors to attend the camps. After I graduated college I moved to Seattle to work for Power of Hope full time as an Americorps Volunteer.
This organization has shifted my life. It led me onto a path of empowering young people. Since High School I have worked for Outward Bound At-Risk in Alabama, Power of Hope in Seattle, and Generation Waking Up here in Oakland: organizations that empower youth using creativity and adventure and challenge them to step up as leaders in their lives.
Julien: My name is Julien, I'm 25 and I was born and raised in Vancouver, Canada. My mother introduced me to environmental and social justice issues at a very young age, and ever since then I've sought to integrate these ideas into who I am and what I do. A few years back I began to explore using art and creativity to respond to the issues we face: replacing car engines with twelve-foot-tall fruit trees and then parking them around the city; co-creating short films with Israeli and Palestinian youth; painting houses slated for demolition in multi-colored acts of celebration. I strongly believe that we need to creatively re-imagine how we relate to each other and the world, as this can inspire and bring hope to those around us. Who knows, maybe it'll even change the world.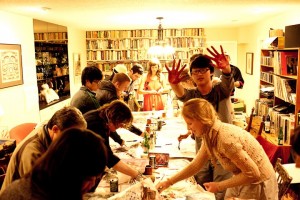 How did LATE NITE ART come about?
A: Julien and I attended the Heart of Facilitation training program in 2010-2011. For our final project we co-facilitated a collaborative arts workshop. Our intention was to create a workshop that brought together a diverse range of people and encouraged them to explore their relationship with their own creativity, and also the role of collaboration in their lives. After one of our participants, a 76-year-old woman, told us she was so inspired she was going to "go home and start drawing for the first time in 30 years" we realized we were on to something.  A few months later Julien and I co-facilitated the workshop again for an inter-generational group of people from more than 6 different countries. Following the workshop an idea was presented to integrate local food and electronic beats, and create a facilitated art party. An idea was born! In September 2011, Julien began holding LATE NITE ART in Vancouver, B.C. and will be hosting the 14th installment this week. In 2012 Adam started hosting LATE NITE ART in Oakland, CA.
What's the hardest part about getting a social art project started?
J: The hardest part about getting started was promoting the event and convincing people to give something different a try. Vancouver is a super busy place and we are continually competing for people's attention amongst all of the other cool things that are going on here.
A: Thinking about LATE NITE ART as a business has been challenging; making sure my costs do not outweigh the proceeds.
What is social art?
Creativity is not separate from us. It is not an "extracurricular" activity and it is not something that some people have and others do not.
J: To me, the term 'social art' denotes an element of service that's integral to one's work: to other people, and to the earth. I think all art is inherently social and political, but 'social artist' takes this one step further in acknowledging the social and political responsibility in one's work.
A: We have forgotten what art and creativity means in our culture. Creativity is not separate from us. It is not an "extracurricular" activity and it is not something that some people have and others do not. Creativity is intertwined with every aspect of our lives. It is the unique and imperfect qualities we embody as a human race. Our creativity is our freedom, our expression, and our innovation. I believe all humans are deeply creative. Every one of us has an inkwell of creativity that cannot run dry. Creativity brings us joy!
A social artist is like a spider. Their web is large and they are connected to many communities. They build community using their creativity, and bringing people together is their art. They are the bridges that connect people across divisions, and the glue that holds them together.
J: I think it's crucial for us to creatively respond to the things that impact our lives. When we can't authentically engage with the people and places around us, then we're not able to fully be human.
If you could go back ten years and give yourself one piece of advice, what would it be?
A: Trust yourself.
J: Hmmm, this is like a LATE NITE ART question! I could draw you my response…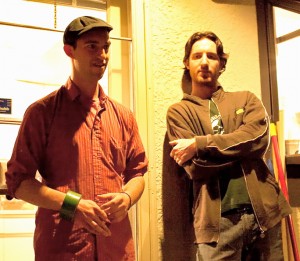 Can you name a social artist that you admire?
A: Cherine Badawi is a social artist working for Generation Waking Up and Integral Trainings in Oakland, CA. Cherine has devoted her life to developing and facilitating experiential social justice and conflict resolution programs for young people around the world. She facilitates conversations and processes around race, power, and privilege in a loving way that shifts people's consciousness and personal beliefs in a profound way.
J: Locally: Nadia Chaney, regional Partners for Youth Empowerment coordinator in India, is a social artist empowering community voice through radical dialogue. Much of her work focuses on issues of identity, diversity, participatory process, and non-violence. She works as a poet, emcee, musician, arts-empowerment facilitator, social justice activist, text editor and writing coach.
Melanie Schambach is a Vancouver social artist who intends to challenge painting into activism by encouraging critical thinking and discourse through painting and interactive painting. She lived fifteen years in Cali during the Colombian Civil War, five years in Guatemala City, and eight years in Canada. Her paintings explore subjects concerning social struggles people resist in South America. She attempts to open a voice for these people, and also honor these cultures constructively.
Internationally: Francis Alÿs, Annelys de Vet.
LATE NITE ART will be hosting a special fundraising event in Oakland on the 7th of June, 2012. The event will be in aid of Young Women's Leadership Training in Bali. For more information visit LATE NITE ART on Facebook.

Photos by Sara Dent