This page is archived. Check out our Training Calendar for current offerings. Don't miss out on this valuable perspective changing experience.
---
LEAD WITH HEART, MAXIMIZE YOUR IMPACT!
The Art of Facilitation (AOF) is an in-depth leadership and facilitation training for youth workers, teachers, facilitators, school counselors, trainers, and anyone who works with youth or adults groups. You'll learn proven techniques for bringing depth, relevance, and lasting impact to your programs, classrooms, or teams. Embark on a powerful learning journey with a supportive, creative community of fellow practitioners.
---
TRAINING DATES AND TIMES
The Art of Facilitation will meet one weekend per month for 5 months in Seattle, WA, USA. We are hoping to start in fall 2021, but the exact dates and location are yet to be determined. Participation at all sessions is required.
The times for a typical weekend session are as follows:
Fridays, 6:30 pm – 9:00 pm
Saturdays, 9:00 am – 6:00 pm
Sundays, 9:00 am – 5:00 pm
PROGRAM OVERVIEW
Art of Facilitation is enlivening, challenging, and fun. Our training approach includes experiential learning, interactive presentations, self- awareness activities, and lots of time for small group practice. Every weekend you'll have the opportunity to try things out in a supportive community of colleagues with direct mentoring from experienced facilitators. You can expect the training to be at times mentally, physically, and emotionally taxing. We have purposely created a rigorous training to make clear the level of skill, commitment, and integrity it takes to become a top-notch facilitator with the power and courage to make a difference. Participants who are able to practice what they learn between sessions will gain the most from the training.
Equity is core to the Art of Facilitation. We address all aspects of facilitation using an equity lens to prepare participants to center the needs of youth and adults from diverse backgrounds and to responsibly use power in their practice.
TOPICS COVERED
Basic Facilitation Skills: Questioning, processing, listening, setting context, debriefing, working with a co-facilitator
Effective Communication: Non-violent, relational, and challenge-based communication; relational and rapport building skills
Group Dynamics: Working with group energy; bringing out quiet voices; working with resistance; getting comfortable working with young people, their emotions and issues
Personal Development: Understanding your triggers; learning how to claim and hold space; understanding your strengths and challenges as a leader; increasing your emotional capacity to deal with conflict and strong feelings.
Cultural Competency: Learning to center the needs of youth and adults from diverse cultures; designing and leading culturally responsive programs; becoming an ally for all people
Trauma-Informed Practice: Understanding trauma and its effects; how to lead trauma-informed, resourceful programs
Presentation Skills: Getting comfortable speaking in front of groups; projecting your voice; clear, authentic communication; being able to think on your feet
Creative Arts Skills: Using practices from a wide range of arts– creative writing, poetry, visual arts, music, movement, improvisational theater, and rhythm–to increase engagement, connection, joy, and magic in a program
Program Design Skills: Understanding the elements of a strong program; how to design transformative learning programs that change lives
APPLICATION
There is limited space in this training, and participants are chosen through an application process. In considering your application, we are most interested in hearing about what you want to learn from AOF, who you serve in your work, and what would make you a strong member of this learning community. We give priority to people working with youth from diverse backgrounds.
FEES
We offer a sliding scale fee structure to ensure equal access to individuals regardless of the size of their organization. When applying, please identify your organizational affiliation to choose the registration fee that fits your situation.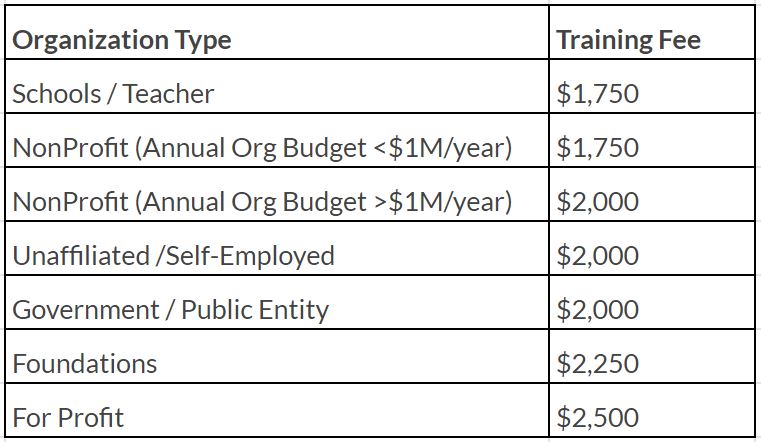 NO PAYMENT IS REQUIRED WITH YOUR APPLICATION
Deposit: Upon being accepted into AOF, a deposit of $250 is required to secure your space; click below to make your payment through PayPal.
Fees include all training materials. You are responsible for travel, accommodations, and meals.
Tuition Due: Tuition balance will be due before the training begins.
Payment Plan: To help ease the financial burden, we offer an optional payment plan to split your tuition balance into two payments.
SCHOLARSHIPS
Our goal is to make the training accessible to everyone who wishes to attend, especially those who serve youth from diverse backgrounds. To be considered for a scholarship, a seperate Scholarship Application will be required.