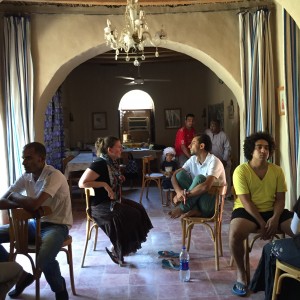 Amid political and economic upheaval in Egypt, the Elisa Sednaoui Foundation (ESF) is making a big difference for young people in Luxor.
Though still a world-renowned travel destination rich in antiquities, Luxor's tourism dollars have dropped sharply and sent unemployment soaring. Says Kasia Skuratowicz, ESF's Senior Education Director: "Local communities are deeply isolated. Spaces for freedom of expression and creative learning are extremely limited. There is a crucial need for fun, engaging programs that support the development of life skills such as communication, empathy, analytical thinking, and self confidence."
ESF responds to this need with creative learning programs that foster leadership and change making through playful cultural exchange and life skill development. "We encourage youth to think creatively about their own needs and those of their communities. And then, step by step, we work on translating needs into action through youth and community projects," says Kasia.
Partners For Youth Empowerment and ESF: A Model Partnership
The Creative Empowerment Model is a stellar fit for the work, reports Kasia. "We have been working with Partners for Youth Empowerment to train a core team of adult facilitators in ways to cultivate safety, community, creative expression, and hands on learning. The creative facilitation training also provides a fun, safe environment in which the adults who are new to working with youth can discover their own creative potential as they delve into the work."
Amad, a youthworker at ESF, reports, "I really appreciated the freedom of communication. I was able to get out of my shell and go beyond my comfort zone. That changed me."
ESF currently reaches hundreds of children and youth through leading weekly sessions based on student-centered and experiential learning in Luxor schools. They've also run two week-long arts empowerment day camps for approximately 150 youth.
Expanding Our Reach, Together
Based on the overwhelming success of the Luxor initiative, ESF has engaged Partners for Youth Empowerment to replicate the training a camps in the Foundation's programs in Italy. "Our partnership with ESF is a match of truly compatible missions, and we're honored to join their work in Egypt and beyond," says Gwyn Wansbrough, Partner for Youth Empowerment's Executive Director.