Lessons from the Earth Child Camp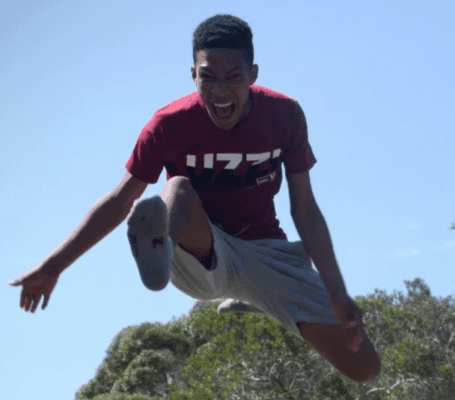 Given the growing culture-based violence in today's world, learning to connect with with people different than ourselves may be the most crucial skill youth can learn. Here's how the Earth Child Project accomplished this at their recent Creative Empowerment Camp for teens.
The youth came from Khayelitsha and Lavender Hill, two Cape Town townships affected by the legacy of apartheid. Both have exceedingly high crime rates and low social services. With a long history of cultural separation, it's rare for Afrikaans-speakers from Lavender Hill and Xhosa-speakers from Khayelitsha to come together.
Issues around inclusivity had come up at previous camps, so the staff was particularly intent on creating a safe environment that supported crossing lines of difference, said co-facilitator Xoli Fulyani. "The results showed throughout the camp. We all connected on a deeper level," said co-facilitator Thandile Giyama. "You could overhear people giving each other affirmations and building relationships during dinner and free time."
The sense of safety at the camp made a difference for 17-year-old Claumi from Lavender Hill. "I felt welcomed, safe, and comfortable. I could just be myself, and I learnt that I actually enjoy smiling, laughing, and Interacting with others." Said 17-year-old Liyabona from Khayelitsha, "I learnt how to empower myself and bring others in. We have to educate each other on how we do things in Khayelitsha and how they do things in Lavender Hill. In this community we shared things together, we communicated, and we had fun!"
The strength of the community was demonstrated one evening at a campfire when an Afrikaans-speaking camper stood up to teach a song in Afrikaans. "We staff members were nervous that this wouldn't land well with the Xhosa-speaking campers," said Xoli, and yet, to their surprise a group of Xhosa-speaking youth came to their fellow camper's defense. "They told us everyone should have a fair chance to share their culture and language. The song became somewhat of an anthem that the whole camp kept singing throughout the rest of camp. At the end of the week the campers left crying and hugging each other as if they were one family."
Our experience running Creative Empowerment Camps for 24 years tells us that when youth feel safe enough to connect with people from different backgrounds, their minds and hearts open, and they develop the courage to engage with difference in their lives outside of camp. Said 15-year-old Fakier from Lavender Hill: "This camp taught me how to communicate and see that even though we are different, we are still the same. I learnt that I love dancing, I love drawing, and I love to talk a lot. I love learning about others and seeing how caring, supportive, and protective we can all be for each other." Said Claumi, "I learnt that you should let go of that which is holding you back to proceed in the future. Move forward and see what the future has for you."
For Earth Child, this camp was a turning point. Said Earth Child's Schools Programme Coordinator Linci Abrahams: "This camp has set the tone for the next 20 years. We can't imagine not having a camp, and we already have our dates set for 2020. Creative Empowerment Camps create amazing transformations in youth, and they are an essential part of our efforts to support children and youth in South Africa."