Derek Debru is a filmmaker and community artist who works internationally. Last year he joined Partners for Youth Empowerment in Northern Uganda to run a participatory television channel at an arts camp that was being co-run with our partner organization In Movement. The camp was held at the Hope North facility for young people who have been affected by the violent civil wars in the region.
"Ever since I began working with film I've wanted to push the limits of what was possible and use it as a tool to do more than just represent," says Derek.
"I grew up in the center of Brussels and had a rather uneventful youth, but during college I started to branch out and developed a passion for learning and a deep need to experience other places and other minds." Derek jumped at the opportunity to finish his studies in Japan. "I've been wandering the globe ever since."
While he was traveling, Derek took on a variety of different jobs from door to door salesman in the American Midwest to working on a round the world cruise. As he traveled, he encountered some amazing stories.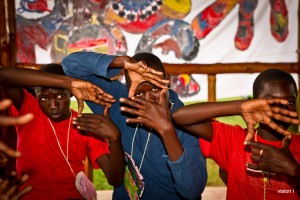 "After traveling for a while I wanted to find a medium that would allow me to record some of these experiences and stories, so I chose to start exploring film. I was offered a rotary scholarship to study in India and during that time I realized that I was really drawn to the process of making films collectively, as a group."
So Derek purchased a small camera and headed out to make his own films and to find collaborators. It wasn't long before he met with the Director of In Movement who told him that they were about to work alongside Partners for Youth Empowerment to hold an art camp for youth in Northern Uganda. They needed a team of people to bring a video dimension to the camp. Derek jumped at the chance. "That's where I met Sam Okello and first experienced the magical place that is Hope North."
Seeing the work that Sam Okello (Director of Hope North) was doing had a huge effect on Derek. "He is a great man with so much vision. He has managed to infuse the whole environment around him with love and intent and you can see it in every person there. Hope North had such a good vibration, and it seemed in many ways to come from him."
"Working at Hope North was amazing. Charlie Murphy, co-founder of Partners for Youth Empowerment, brought a real sense of vision and clarity as well as confidence and experience of the power of the arts as a tool for empowerment. His presence added a sense of comfort to the community of participants and trainers."
"Charlie really pushed our team of filmmakers to excel and not to worry or hold ourselves back. He was very encouraging when we told him our plan to make a TV show during the three days at the camp. I had a great time listening to Charlie's stories and I was impressed at the depth of his vision and his absolute understanding that introducing young people to the arts in the right way can have a measured and lasting impact."
Derek's time at the camp gave him a new way to think about the medium he loved. "Working at Hope North gave me a chance to use film in some really exciting ways. On one side it allowed the camp participants to demystify the moving image and on the other it gave them an outlet to express themselves, which was really empowering for them. I would love to continue with this type of work."
"I really enjoyed seeing how the trainers prepared for the arrival of the youth, making it a really fertile environment for growth before the youth had even arrived. Talking to Charlie gave me great insight into what I was witnessing and how carefully these camps are designed to create the best possible experience for everyone, to create a safe and nurturing environment where everyone can flourish. For the sake of everyone everywhere, I only hope that Charlie's ideas are spread and incorporated into mainstream education."
For Derek, the results of the careful preparation and planning were immediately worthwhile. "My enduring memory of the camp was seeing an incredible transformation in people and seeing how quickly they felt very comfortable and fully began to participate in everything and show everyone who they really were."
Watch this short video with some of the highlights of Derek's video:
Or watch the full camp television programs:
HOPE TV episode 1 from Hope TV on Vimeo.
HOPE TV – episode 2 from Hope TV on Vimeo.
HOPE TV – episode 3 from Hope TV on Vimeo.