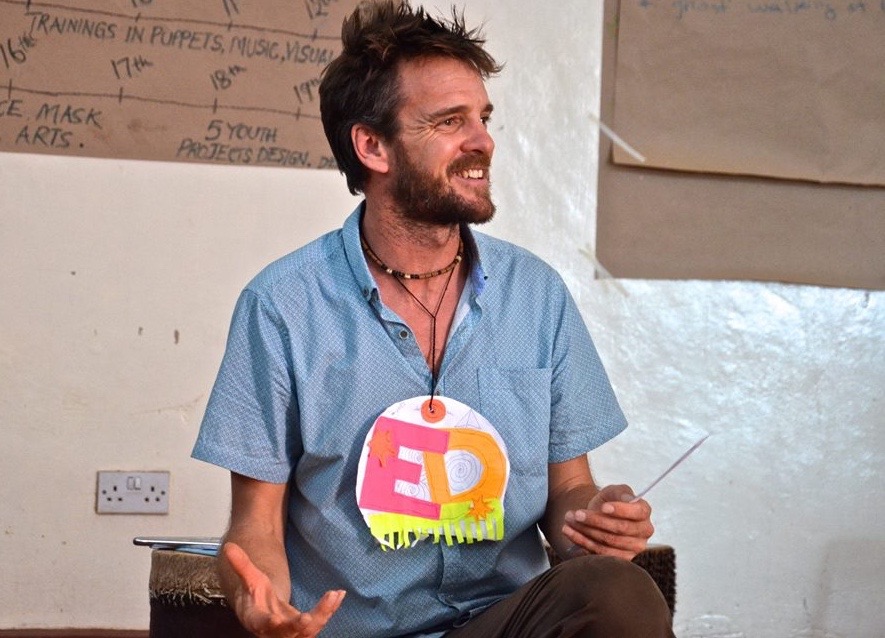 As an international organization we have met and worked with thousands of social artists around the world. One question that many of the people we meet have is how to go about setting up your own social art organization. To find out more, we spoke to Ed Wade-Martins Co-director of MovingSounds.org, an organization in the South of England that uses creativity to raise awareness of today's social and environmental issues. The organization specialize in performance led workshops where participants are encouraged to create their own performance piece and show it to a wider audience.
"I set up MovingSounds.org seven years ago," says Ed. "I had been running creative workshops for several years. I started in Brighton doing drumming workshops and working with kids who had been excluded or who had special needs. I was trying to use music as a way to bring people together and build communities."
After a few years of running workshops, Ed decided to take his work to a new level and set up his own organization. "I wanted to explore ways of using the arts to address environmental and social problems and to create a framework for doing that. Our aim is to help people to understand their relationship to the world and the environment around them."
So what's it really like to set up a social art organization? "One of the main things I hear everyone talking about is the overwhelming amount of paperwork," says Ed. "It's a total labyrinth."

At the early stages of your organization, you will be asked to make some important decisions. "One of the big ones we were faced with was whether to register as a charity or as a not for profit," says Ed. "After seeking advice from all kinds of people from local accountants to other social artists, we decided to register as a Community Interest Company limited by guarantee. It's all very complicated and it's a good idea to get as much advice as possible before you make a decision."
Your choices around the structure of your organization on the laws of your country. A good place to start will depend on the laws of your country. A good place to start is to talk with people running organizations similar in size and purpose to the one you'd like to start.
"You need to remember to be patient. I remember feeling frustrated because we were ready to get up and running and get on with the real business of running workshops, but there was a lot of legal stuff to get through first. Sadly, the truth is that when you run your own organization it's not all about preparing and running the workshops themselves. You need to have a bit of a business brain too."
"Always bear in mind that there are plenty of people out there who are willing to help small organizations. Take the time to ask for advice and make sure you make well informed decisions."
There are other concerns to keep in mind when you are getting started too. "It's really important to sort your website out," says Ed. "It's your window to the world and it's where people will come to learn about your work. Make it as strong as possible and give people as much information as you can about who you are and what you do."
Once your organization is up and running you come to the next major challenge – finding enough work. "Marketing can be really tough," says Ed.  "In this line of work, word of mouth tends to be really important. A lot of the work we do comes through people we know and personal recommendations. Be patient and pro-active. Take every opportunity you can to get out there and network and showcase what you can do."
Of course, in the world of social art, securing funding is a really important part of your work.. "More often than not we tend to secure the funding for a project first, and then we approach schools to offer to come and work with them. When we were first setting up we did loads and loads of funding applications. It felt like hundreds. Luckily, we got some positive responses."
"We've never received any core funding. Our funding tends to come on a project by project basis so filling out applications and looking for opportunities becomes an important part of your work. Every time we come up with a new project idea we have to go out and look for the funding for it. Sometimes you are successful, sometimes you aren't. It's a game of perseverance."
For Ed, amid all of the organization and paperwork, it's important to keep your personal development on track and not to forget the ideals you set out with. "Last year I embarked on a cycle ride from the UK to Mali. Now that I'm back I'm writing a book about my experiences. It's so important to continue to explore and develop your own creativity as well as helping other people to develop theirs. If you're not growing and learning then you can't help others to do the same. It's a careful balance. You've got to stay inspired and keep learning."