Creative Facilitation Tools
Activities, games, and resources to fuel your facilitation practice.
Free E-Book
Transform Your Group Work
Transform your work group to excite and inspire each participant.
Our free e-book, The 5 Power Tools, will show you how you can boost the impact of your group activities, whether you are in a classroom, a boardroom, or a community meeting.
To receive our e-book, enter your name and email to receive a pdf of the e-book by email. This gift also comes with a  subscription to our newsletter that includes the latest facilitation news, tips and resources. 
Your privacy is important to us. Read our Privacy Policy.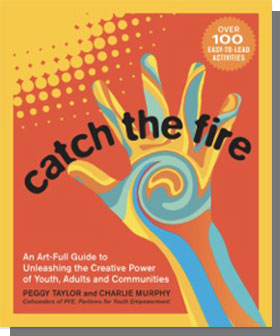 Catch The Fire: An Art-Full Guide to Unleashing the Creative Power of Youth, Adults and Communities was written by our founders Peggy Taylor and Charlie Murphy
Includes over 100 stimulating activities incorporating storytelling, theater, writing, visual arts and music to boost your Creative Empowerment Facilitation.
"Catch the Fire is full of living examples of how the arts enable us to connect deeply with our own humanity across generations and cultures."
- Peter Gabriel, Musician