This December, teachers from across the UK will converge on the Studio School in Liverpool to take part in the second phase of our Creative Learning Initiative, a training initiative designed to equip teachers to meet the needs of young people in a rapidly changing Europe. The initiative is a successful partnership with Ashoka UK and the Ellis Campbell Foundation.
New World, New Needs
Europe continues to be shaken by deep economic, political, and social shifts like the Euro debt crisis, record levels of youth unemployment, migration, and populist protests. These profound systemic changes are dramatically reshaping the prospects of young people. The world is changing so fast that Europe's outmoded educational systems can't keep up.
But increasingly, schools and educators are seeking a better way forward. A movement is slowly gaining momentum that champions a holistic approach to education, an approach that empowers teachers and equips students with necessary skills for success in life and work like creativity, social-emotional literacy, and inner motivation.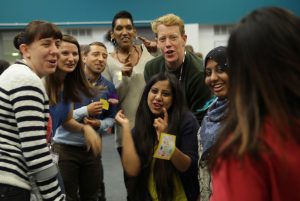 Here's where the Creative Classroom Training comes in. Partnering with Ashoka Changemaker Schools and other forward-thinking educational institutions, we provide training in ways to build vibrant classroom learning communities, use the arts in teaching, listen deeply, and boost the strengths of students.
The trainings are having an immediate positive effect on teachers and classrooms. Matthew Bebb, a teacher at King's Way Academy in Liverpool, reported a rise in his own confidence. In addition, he reports that the Creative Classroom techniques have improved students' listening skills and that his pupils are proactively demonstrating more leadership. He and other teachers even led a Creative Classroom session for their colleagues. Matthew said, "Creative Classroom was the best training we've ever had!"
In addition to the UK, our impact is spreading across Europe. We recently completed the Creative Classroom series with a pilot group of 50 teachers in Athens in partnership with Ashoka and the Pilot Experimental School of Agioi Anargyroi. We also wrapped up the second phase of teacher training with the Cyprus Pedagogical Institute.
Athens teacher Nikoleta Foti reported a few weeks after her training, "I have already implemented many tools. My students wrote poems, performed, played theatre games and they loved it. I loved it too because I found out that 'weak' and 'indifferent' students not only participated but stood up and even found the answers. Their voices were finally heard!"
Next Steps
We are continuing to pursue strategic partnerships in other countries. In May 2016, Ashoka Spain supported our first Creative Facilitation workshop in Barcelona, attended by 24 people representing 16 organizations and schools. By 2018, we aim to see established, on-going access to teacher training in Greece, Cyprus, Spain, Turkey, and other parts of Europe. Please contact us with any connections you have with schools or teacher training institutes that may be interested in this new approach to education.
Our goal: to radically change the way youth experience learning in today's society. Help us get there.