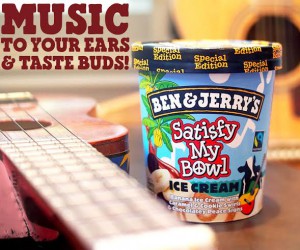 We're so excited to announce a brand new partnership with Ben & Jerry's and 1Love.
As part of the 30th anniversary of Bob Marley's Legend album, Ben & Jerry's, 1Love and Partners for Youth Empowerment will partner with Jamaica's leading youth serving organizations to activate the creative power of Jamaican youth and continue Bob's legacy of a more integrated and peaceful world – going back to his roots.
Ben & Jerry's will be releasing a new special edition flavor 'Satisfy my Bowl', in honor of the music icon and to lend its voice to a vision for peace, love and social justice.
Satisfy My Bowl, which was named by a Ben & Jerry's fan, is a concoction of banana ice cream beats, a mashup of caramel and cookie swirls, and a chorus of chocolatey peace signs.The flavor combination is now available in Europe (sorry everyone else).
Proceeds from the special edition flavour will enable 1Love and Partners for Youth Empowerment to empower young people in Jamaica and continue Bob Marley's legacy of using music to change the world.
The goal is to empower communities where youth, grounded in culture and positive values, have the support and skills to find meaning and purpose in their lives, and are creatively engaged in responding to the challenges that they and society face.