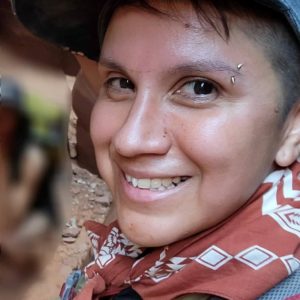 Born in Chicago to a Mexican immigrant family Claudia had a desire to improve her community from a very early age. "I grew up around so much trauma in my community, I wanted to do everything possible to help all of us get out of it," she recalls. At age 12 she inadvertently had her first taste of group facilitation. "My teacher didn't know what to do with all of the immigrant kids in our large classes. Many of them couldn't read or speak English and she didn't speak Spanish." One day she sent Claudia and some of her English-speaking classmates into another room to read a book. "I immediately started to facilitate the group," Claudia recalls. "I said, 'Let's talk about our deepest, heaviest traumas.' We were just 12-year-olds, and we started talking about the pain and suffering in our lives, and it made us feel better to know we had one another's trust and support."
After college, Claudia was hired as a domestic violence counselor where she led psycho educational groups with people experiencing domestic violence. "We used a combination of education and speaking from the heart," she says. "It was powerful to connect with people on such a deep, vulnerable level and watch how they transformed over time." At the prompting of a mentor, she also trained as a mediator and a restorative justice facilitator. "I was drawn to restorative justice because it wasn't punitive and the process itself serves as a solution to the root cause of the violence that was committed. It also allowed space to account for the conditions that led people to cause harm. Everything else I knew was punitive and just created more harm."
She was introduced to PYE in 2014 when she took the Heart of Facilitation Training, led by PYE co-founder Peggy Taylor and Hanif Fazal, founder of Step Up, an innovative learning enrichment program for youth in Portland, Oregon. "I grew up in a community where we deeply needed processes, mentors, and rituals for healing, and we didn't have any of that. So as an adult when I was introduced to PYE's methodologies, I said 'OMG, these really exist. Where have they been all my life?' Even though I'm a social worker, I'm not really into traditional counseling. I think there are other ways we can heal, and it needs to happen in community."
Claudia put her learning from the Heart of Facilitation to the test when she moved to Seattle and took a job at the King County juvenile court working with youth who had been violent in their homes. "The program designer asked me to change it to be more interactive, dynamic, and culturally responsive. These were young kids 13-17 with a history of violence. The program used textbooks and was so austere, I was amazed it worked at all. I applied all I learned at Heart of Facilitation, and the feedback from the youth and parents was over the top."
From there she was hired as program manager for an initiative to end youth incarceration in King County. "It was a really big deal for me. I'd never been a manager, and I found government intimidating." She eventually found herself at home there and gained a whole new set of skills around how to implement ideas and manage programs. "I was drawn to the Zero Youth Detention initiative because I am attracted to innovative efforts that provide alternatives to status quo responses that have proven to be ineffective. Being part of the initiative offered me the opportunity to innovate within a system with actual institutional support to do something dramatically different."
Claudia also had the chance to share her facilitation expertise within King County as they sought to transform its culture to embody racial equity. With PYE trainer Alan Wong, she designed and led an in-depth PYE facilitation training for people of color working at the county. "The county had established affinity groups for different ethnicities, and they couldn't take off because no one had the skill to run them," said Claudia. The first training blossomed into a three-year relationship with King County aimed at developing a cadre of creative facilitators that could lead dialogue related to social justice internally.
Claudia's love of witnessing transformation in the youth and adult participants in PYE programs made her decide to join the team. "My partner would see me after facilitating, and say, 'You are so happy and powerful when you do that work. Why can't you do that full time?' Yes, I wondered, what would happen if I were in a job where I was this happy most of the time?"
She's excited to expand PYE's current programs and stretch in new directions. "There is so much potential to identify the PYE model as a healing-centered practice by connecting it to the growing bodies of research in the science of learning and neuroplasticity (the capacity for the brain to regenerate itself). I see the Creative Empowerment Model as a mechanism to create effective, equitable programs that result in healing from colonization and other forms of [racial] trauma.
Claudia also sees the potential of using the model to address other modern, social challenges. "It works not only for children and youth, it also transforms adults. The pandemic has made it clear that it doesn't work to just put people together and then expect them to work cohesively without a method. People yearn for opportunities to connect on a deeper level, guided with more care and intention. For me the Creative Empowerment Model is a vehicle for deepening relationships across difference so I see it as a way to solve a whole range of modern social problems we're confronted with. I have never felt so confident about embarking on a new endeavor."
"Claudia was my instructor when I experienced my first PYE training a few years ago," says PYE ED Larisa Benson. "I have taken so many facilitation trainings, and I had never experienced the level of artistry, soul, and integrity I saw in Claudia. I feel honored that she is joining the PYE team. I think Claudia is our future, and I'm excited to follow her lead."