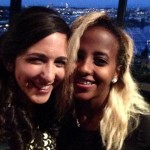 Seattle Met Magazine recently celebrated the winners of their fourth annual Light a Fire Awards. These honors are given to organizations and individuals who make Seattle—and the world—a better place. The "Emerging Leader" award went to Jamie-Rose Edwards, who founded Young Women Empowered (Y-WE) with Partners for Youth Empowerment's Peggy Taylor.
Jamie-Rose is an inspirational leader who has led Y-WE through rapid growth over the past five years. A Partners for Youth Empowerment partner that leverages the Creative Community Model, Y-WE offers a seven-month creative leadership program that pairs young women from a wide-range of cultures and backgrounds in the Seattle area with adult mentors.
The program has grown 500% since it began in 2010, now with a community of over 500 diverse and talented women and girls. Congratulations, Jamie-Rose! You make us proud.
Check out the video below or read the whole story at Seattle Met's website.