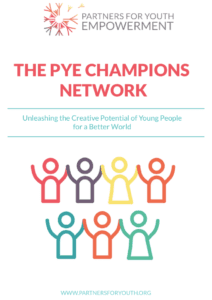 The call for transformative learning has never been greater, and we are running to keep up with the need. To supercharge our efforts, we have launched a new program for larger donors called the PYE Champions Network. The network is a community of visionary individuals and leaders who understand the critical moment we are living in and want to work together to make a big difference for our children and the future of our world. 
Champions contribute their creativity, financial resources, expertise, and networks to help expand the reach and impact of PYE's youth empowerment efforts.
Network members in turn have access to events, opportunities to work hands-on with the PYE leadership team and on projects, and connection to a community of extraordinary people making change. 
If this sounds like you, please read more in the PYE Champions Brochure.
For more information, please contact PYE Executive Director, Helena Hennighausen, Helena@partnersforyouth.org