To receive a notification when registration becomes available, add your name to the WAIT LIST. Stay tuned!
These workshops are for anyone who works with youth or adult groups: youth workers, educators, trainers, program leaders, facilitators, team leaders, plus more.
Getting Started Online
Basic Zoom Tools for Engaging Learning
4 hours of training followed by 2 hours of practice
This 6-hour training will prepare you with basic Zoom tools and activities to create the same lasting impact with your online groups as you do in your in-person programs. We will show you how to leverage Zoom to facilitate programs that deliver a deep, interactive, and connected learning experience. You will learn basic zoom tools and a set of interactive activities that build strong learning communities and fully engage participants
This training is for people who are newer to using Zoom or to facilitating online.
Zoom Tools. You'll learn tools you can use in any online program, regardless of the content, format, or audience. This workshop covers the basics such as 'raise hand,' and 'view options,' as well as more advanced tools such as sharing audio and slides effectively, using spotlight and pin features, and setting up breakout rooms.
Participant Engagement. You'll gain a toolbox of easy-to-lead low risk activities that build a sense of community among participants and help bring even the shyest participants out of their shells.
This workshop will give you a taste of the possibilities inherent in creative online facilitation. The workshop takes place in two 3-hour sessions with lots of time for practice and getting all your questions answered. Working with these tools takes practice and this workshop will get you started!
Getting Creative Online
Build Your Facilitation & Lead Powerful Programs
6 hours of training
In this more advanced 6-hour training, you will learn to combine Zoom tools with Creative Facilitation activities to deliver deep, interactive, and connected online learning programs. Whether you are improving on Zoom or feeling confidently experienced, this training is designed to strengthen your skills while using Zoom for maximum facilitation impact.
Creative Facilitation activities. Gain a toolbox of tried and tested activities to use online that you can weave into your program to increase engagement, connection, and creativity. Learn tools you can apply in any program, regardless of the content, format, or audience.
Online connection Experience how to create a sense of bonding and being together online.
Online Facilitation Techniques. Learn strategies and processes that will increase participation and create more ease in your online facilitation.
Creative Collaboration. Experience creative group challenges that build personal confidence, collaboration skills and the ability to connect.
This workshop will give you the opportunity to sharpen your tools and enhance the possibilities for online facilitation. In the workshop, we provide time for reflection and practice with the Zoom tools, and encourage you to continue working with other participants afterwards. Working with these tools takes practice and this workshop will give you a space to develop.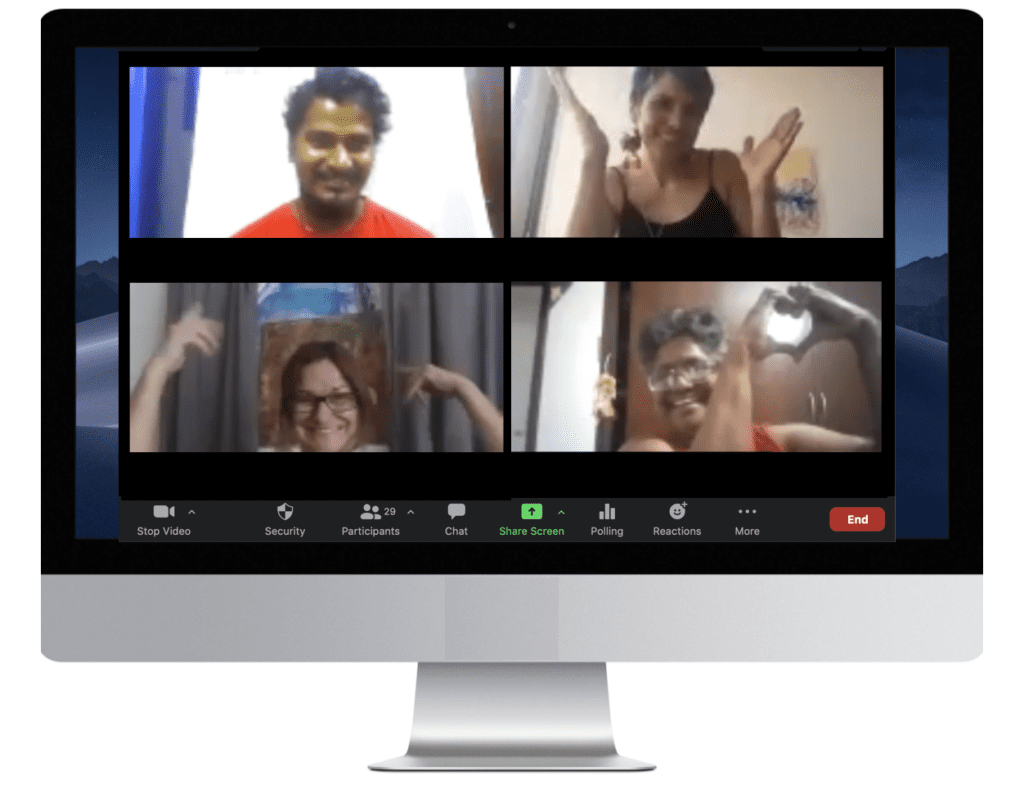 WORKSHOP FEES
Partners for Youth Empowerment employs a sliding scale as a tool to promote economic justice and provide access to all. We invite you to self select your registration fee using our Sliding Scale as a guide. Based on where you fall on the sliding scale, you are welcome to choose the rate that works best for you. Be sure to review the Refund and Payment Policy.
Getting Started Online
4 hours of training followed by 2 hours of practice
Sliding Scale – $100/150/200 USD
Full price for this 6 hour workshop is $200 USD.
Getting Creative Online
6 hours of training
Sliding Scale – $125/200/275 USD
Full price for this 6 hour workshop is $150 USD.
If you need additional financial support in order to participate due to your personal situation or to the inequalities of the exchange rate to the US dollar, you are welcome to submit an application to our Scholarship Program. If you apply for a scholarship, you will be contacted when a space becomes available. Please note that we may not be able to get you into the training date of your choice.
---
Logistics
These workshop is 6 hours and is delivered in two three-hour sessions; there will be two 10 minute breaks during each session.
The training takes place in PYE's private and secure online Zoom room and wil be highly interactive. You can expect to meet in large and small groups using both your video and audio.
After registering, you will receive an email with the links for joining the session on Zoom.
NOTE: This workshop is best experienced with the latest version of Zoom. Do update!
---
WORKSHOP REQUIREMENTS
A few pieces of paper (or a journal), and a pen or pencil.
A quiet and distraction free space to work in with a bit of room for a few physical activities.
We welcome you to join the workshop 10 minutes prior to the scheduled start time so that you can get oriented and ready to participate when the session starts.
---
TECHNICAL REQUIREMENTS
In order to participate fully, and to allow for the highest level of connectivity, you will need to have the following:
Laptop or desktop computer. This training will provide instructions for using Zoom on a desktop or laptop computer. Although it is possible to lead Zoom meetings from a tablet or mobile device, you will be limited in what features and functions you have access to. We will be providing instructions for how to use the Zoom features on desktop devices. Also, for the purposes of this training, a computer or laptop monitor will enable you to better see and engage with the workshop content, as well as with the other participants. It is also ideal to have a device with a physical keyboard.
Zoom Desktop Client. Be sure that you have the latest Zoom desktop client installed in order to fully participate in all of the activities. Download Zoom: zoom.us/download
Zoom account. Create an account for yourself with Zoom if you do not already have one.
Webcam, speakers, and microphone. Mostly likely your device has these elements built in and ready to use. Make sure that they are working properly on your device and on Zoom.
WiFi. When possible, connect to the internet with a physical cable connection, not just Wi-Fi. This will give you much greater speed and service.
Power Source. Make sure that your device has power for the duration of the workshop.
---
TIPS FOR THE BEST INTERACTIVE ONLINE EXPERIENCE
Space. A quiet and distraction free space to work in with a bit of room for some physical activities.
Lighting. Make sure you have a stronger source of light in front of you than behind you, too much light behind you and you will appear as a silhouette.
Headset. A headset will greatly reduce the chance for feedback and improve your voice quality. Headsets that connect via USB are the best choice.
Location. Wind and background noise makes your device's microphone adjust and your voice may sound muffled. Also, don't have anything behind you that may be distracting to those who are on the other side.
Close Other Applications. This will maximize processing power of your device to improve the quality of your Zoom session.
---