With a fair share of trepidation, we led the first ever five-day online pilot of Power of Hope – our youth leadership camp, in August 2020. Together, 14 youth and 5 adults explored the theme "Metamorphosis," and asked the key question: What do we do when we face great adversity? "I have to say, I was skeptical going in," says lead facilitator Mari Shibuya. "There is so much that goes into making our weeklong in-person camps a success. Could we accomplish the same goals online?"
For three hours a day over five days, the campers and staff engaged in community building, creative play, and opportunities for deep self-reflection, social emotional learning and conversation on issues that matter. Each day included welcoming activities, and a learning session that explored issues like:
How to be curious and compassion, to get to know ourselves and others.
Ways to develop self-care practices that alleviate stress.
How to understand perspectives different than our own.
On the first day of camp, the group decided on a shared goal: learning to go inward to change things in our outer lives. It called for a lot of deep reflection, and we wondered how it would play out on Zoom. "Given the limits of being online, the camp turned out to be far more introspective than the week-long camp," says Mari. "We definitely missed all of the casual time for socializing that happens in person, but being online made the camp even more intense and deep. I was surprised by the depth of these young people's curiosity. Their willingness to go to such introspective places continues to point to the richness of their inner worlds and the deep thinking they are capable of when they are given the space and support by caring adults."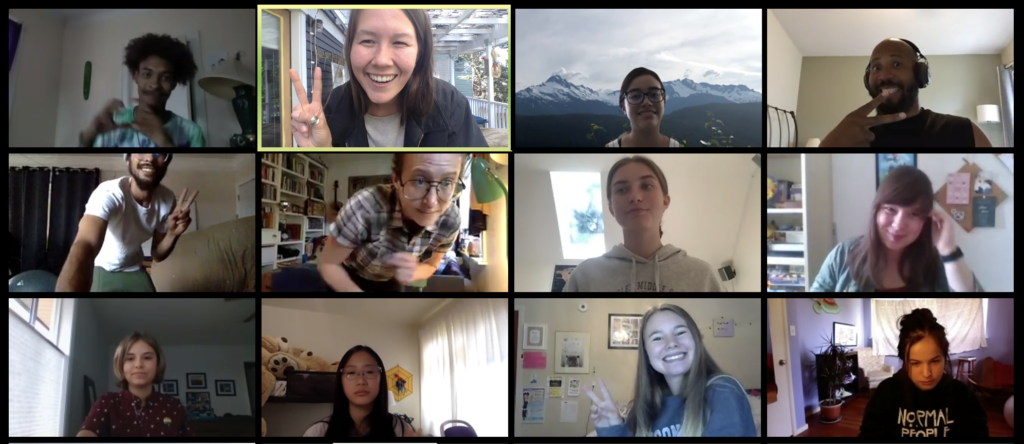 Although we expected the camp to be quite different online, what surprised us most was how similar youth's feedback was to the feedback from our in-person camps. Here are some examples:
The youth relish a judgement-free learning environment:
Everyone was so nice, there was so much participation. There was no 'awkward silence' that happens on Zoom a lot.
The camp felt so accepting and inclusive. Everyone came just as they were and that was ok. It's hard to that in life.
I was able to be myself without worrying what others thought about me.
They benefit from a space where they get to know themselves and each other at a deeper level:
Its important to focus on yourself and connect with your core. Without that it's hard to make sense of your world. Through that you can connect with others and be there for so many people.
Camp was so peaceful. It focused on the inner core of the person, helping us connect with ourselves and each other.
An important takeaway was the sense of knowing more people and myself! I enjoyed being able to dive into emotions and feelings. Another takeaway – the amount of self-confidence I gained!
They can take ownership of their growth, when given the chance:
I learned to take time for myself, and I should listen to my body!
I have some trouble with self-confidence. The camp really helped me overcome that. I truly felt at home here during camp!
I want to work on identifying my emotions because I didn't realize how important that can be.
I will think differently about each of our realities and how personal experiences relate to the world around us.
Adults are a key part of the puzzle to achieve a creative, empowering learning environment. Youth appreciated:
"How engaged everyone was, especially the counselors!" Full participation of adults is key to the camp model, as it sets the tone for the youth's involvement as well.
"The safe space that was created by my peers and the counselors." Sharing power between youth and adults is another key element of the camp model, that fosters inclusion and empowerment.
"Showing us that you can show up just the way you are. You were trying to teach us that but seeing how y'all showed up helped us do it too."
The three themes above point to the crucial role PYE's training plays in supporting educators to become the kind of adults with whom youth thrive. Skilled adults hold the key to creating empowering, transformative spaces. When asked for ideas on how to do so in online classrooms or youth programs, Mari recommends:
Ask youth what they want from the program and what they need. This gets them engaged!
If possible, have other adults available to hold breakout room activities and conversations.
Use music to set a positive tone and create a sense of play.
Find ways to give everyone a chance to show how they are reacting to the program. If you don't have time for everyone to talk, ask them to take a pose or make a sound to show how thye feel.
While online camp can never replace a week-long in-person experience, we see a real role for online programs especially for youth who can't come to camp. "I feel excited about the potential of leading a program that would run online all year," says Mari. "What would it look like to create a consistent space for these young people to be in an ongoing community of reflection where we all—youth and adults –can examine our creative potential and take an active role in changing the world."
If you want to increase your impact leading online classes or programs for youth and/or adults check out our new training: "How to Lead Online Programs." partnersforyouth.org
Authors: Peggy Taylor