Themistoklis Gkion is a lead facilitator with Partners for Youth Empowerment and the Founder and Learning Experience Architect at Flow Athens in Greece, but he doesn't stop there.  Themis (for short) has a passion for education that has shaped his career path, bringing him in a full circle that starts and ends with helping others.
Themis grew up surrounded by education and began working at the school his grandmother owned when he was a teenager. He found himself captivated when observing people learn and grow and solve problems: "I was always fascinated when I could see the spark in the kids' eyes when they were fighting to address a challenge." 
Themis went on to pursue various career paths. He started as an engineer, and then took on a managerial position in a small school. He then moved to finance to become a derivatives trader. "I was a free spirit. I was always seeking something to give me meaning and purpose in my life."Themis's taste for learning and education never subsided, and this led him to his current mission.
Themis started Flow Athens in 2010 to change education and fill the gaps of the current system. Flow Athens designs and facilitates experiences to teach youth and adults forward-thinking skills, creativity, mechanisms for innovation, collaboration and more. Themis uses games and activities to foster learning that goes beyond what's taught in a classroom, and that's where Partners for Youth Empowerment comes into play.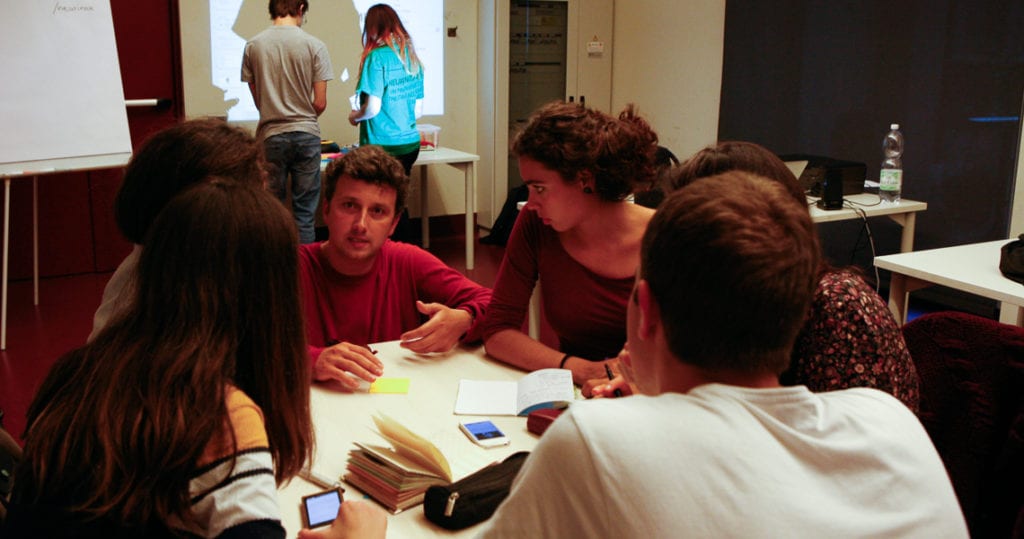 We have given Themis the confidence to be a teacher and to teach more effectively, taking Flow Athens to another level. "Partners for Youth Empowerment has given me a wealth of arts-based activities, as well as a process to facilitate experiential learning programs."  Themis began working with us a few years ago after attending Creative Facilitation Training in Athens, Greece. The structured and cohesive activities that we offer allowed Themis to improve his and his student's work. "I had been using games and technology, and Partners for Youth Empowerment has been using arts-based activities in order to pursue the same goal; cultivate 21st century skills. There was a lot of similarities and complementarities, and that's how we started working together."
Through Flow Athens Themis was able to get back to his roots in education and develop a new mission to help others acquire skills that aren't offered in traditional school systems. "I want to help youth develop the skills that will allow them pursue their careers and actually conduct meaningful lives, find meaning in whatever they do and follow their passions."
Themis also uses our techniques in his work with refugees. He has used the creative classroom model to empower teachers from refugee schools, who informally teach young refugees that have migrated to Greece. "We're offering them the creative empowerment model because it's really suitable and adaptable for audiences of different ages and different languages. It's proven a very useful and versatile tool for the teachers in order to be able to facilitate such diverse classes."
Themis's advice for anyone who wants to help others succeed, is to look deep inside yourself to determine what your real motives are; to find your real passions and driving forces, and above all  to discover the child within you. "It's so much better when you can work with youth with a playful attitude. It's so much easier to invite their imagination. Most of my work, I totally enjoy it. It's like playing."