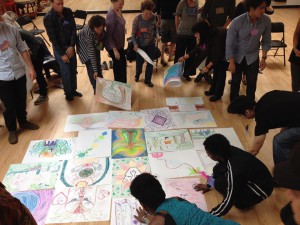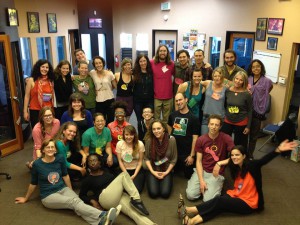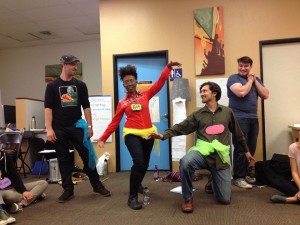 Our Lead Facilitator Thomas Arndt fills us in on the amazing energy and passion developing in our newest community.  
The Partners for Youth Empowerment Bay Area movement is alive and happening!  There have been a few of us down here (past campers turned arts facilitators like Adam Rosendahl, former Lead Facilitators like Sagesse Gwinn Graham, Leon Ryan, and Galen Silvestri (Peterson) and myself, and a group of Charlie Murphy and Peggy Taylor's friends like Manuel Maqueda of KUMU) who have been clamoring for a while about bringing Partners for Youth Empowerment to the San Francisco Bay Area.
Well, the time has struck and, you know that feeling when you jump into a fast flowing river? That's exactly what it's been like: swept up into full on motion from Day 1!  ""The Bay Area is ripe for the work of Partners for Youth Empowerment" says Adam Rosendahl, "because of it's emphasis on arts, innovation, and interest in the "cutting edge." The energy in the Bay Area is alive and supportive of new projects that help local people, particularly youth."
It's actually hard to imagine that our first Creative Facilitation Training took off just a couple of months ago, April 26th-27th at Destiny Arts Center in Oakland with Charlie Murphy.  Since then we've had another full Creative Facilitation 1 Training, this time at United Roots with Alan Wong heading things up, backed by Adam Rosendahl and Kat Vellos.
It's been great being hosted by these two fabulous local youth arts organizations: Destiny's been in the community doing youth empowerment through dance and martial arts for over 25 years and have just opened their very own space in North Oakland.  And United Roots is an electrifying hub of activity, connecting a wide array of organizations, using music studios and social entrepreneurial mentoring to affect change in Downtown Oakland. At both trainings we were joined by a few staff from each organization, which felt like a great way to connect and strengthen these partnerships that are forming.
It's been a delight to see so many people who haven't experienced Partners for Youth Empowerment's work before, eyes bright, jumping into the Group Rhythm, singing songs, and exploring Theatre of the Oppressed.  Overall, we've heard the resounding comments "so fun," "so different" and (music to our hearts) "so applicable."  Our Trainings are definitely providing tools and developing community that people are craving, so this is some exciting momentum in the Bay Area!