The Creative Community Model is incredibly flexible. It just works.
We first met Tiffany Purn some years ago when she was working as a social worker and brought some of her young people to one of our Power of Hope camps. Tiffany then decided to take a Creative Facilitation training with us before signing up for the more in depth Heart of Facilitation (HOF) course – our most intensive facilitator training which is run over 5 weekends.
"That was a really transformative experience," says Tiffany. "The group becomes a really powerful learning community. There is a real emphasis on transforming yourself in order to be able to help others. That's what made this course really stand out to me."
Graduates from our trainings use the skills they learn in an incredible variety of fields. We've heard stories about everyone from corporate groups and football teams to school children and creativity clubs being run using techniques from the Creative Community Model.
Shortly after graduating from HOF, Tiffany decided to take on a new challenge after being offered a placement working in Nepal with the volunteer organization VSO.
"I've always had a strong interest in working with women, so much of my work in Nepal was focused around that," says Tiffany. "Most of my work was in rural communities where women had very little access to training. I used the skills I had learned at HOF to run a variety of different sessions. I felt really passionate about what I was doing and the skills I had learned from Partners for Youth Empowerment gave me a lot of confidence and grounding."
"One project that I did involved working with young girls who had been trafficked to India to work in the circuses there. I worked with them for around 8 months doing arts based work and using the Creative Community Model to bring the group together."
"I did loads of photography and drama and we also started a zine together. There was a significant language barrier between us, but I was amazed at how much the arts-based work allowed me to break that barrier down."
"When we were working on the zines the girls really came to life. It was a great chance for them to really own their own project. One of the young women had to go back to her village before the project was finished and she was really distraught not to see the final version. Amazingly, one of the local staff decided that it was really important that she receive a copy so he took it to her, taking a full day to walk to her village to deliver it and another day to walk back. She was so grateful that someone cared enough to go to that effort. It was a really special moment."
At Partners for Youth Empowerment, we often hear stories about the ways that our methodology is carrying on it's own legacy throughout the world. We call this the ripple effect. Tiffany worked with a co-teacher during her time with the young women. "She was really interested in the skills we were using and she saw that it was really working. Through the activities we did I started to see her really standing up and taking leadership. She was interested to learn more, so I started taking her to other trainings that I was doing. I was really confident in her abilities and I'm sure that she's still spreading the Creative Community Model in Nepal to this day."
Tiffany got involved in many other projects in Nepal too. "I set up a program in Kathmandu that was a leadership initiative with young women aged 18-26. They had some professional background but weren't being given opportunities to progress. We started a program to bring them together and to give them more confidence and communication skills. The project is still running now and it's really meaningful to them. It gave them a place to shine and a way to support each other. We've had great results so far. One girl was given a promotion and another was given the opportunity to come to the USA and give a presentation for political leaders from around the world."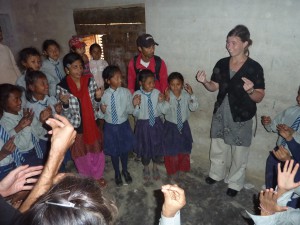 For Tiffany, the Creative Community Model can be adapted to a variety of situations. "I use the Creative Community Model in the way I understand it. Using the arts is my way of getting to a deeper level of connection with any group and the Partners for Youth Empowerment model is the best example I have for how to manage that. Once you open the door to creative thinking then you can start to really get to know each other, no matter where you are from or how different your lives have been."