Creative Catalyst Workshop Series

FREE 90 minute workshops on the second Tuesday of each month led by PYE facilitators from around the world!
Join us to see for yourself how the Creative Empowerment Model sparks creativity, connection and inspiration with our incredible PYE trainers from around the world. 
Studies show that creative expression reduces stress and trauma, increases the immune response, and fosters personal well being and group connection. Each Creative Catalyst workshop demonstrates how to use creative expression for your own well being as well as to deepen the impact of any work you may do with groups of youth or adults, online or in person. No previous experience is required to benefit from these workshops.
Increase your confidence in your own creativity and your own personal well-being.
Learn facilitation tips from facilitators from around the world on how to engage creatively online with groups.
Learn activities that can be used to increase social/emotional literacy and life skills for youth and adults.
Experience the power of well-facilitated on-line learning programs.
Local Date:
Tuesday Dec 14, 2021
|
Local Time:
9:00 am - 10:30 am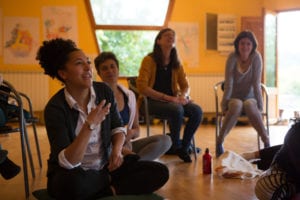 No event found!
More trainings coming soon!
Click here to be notified when a training becomes available.
Support This and Other PYE Programs
The Creative Catalyst Series brings the practice of creative expression to you wherever you are in the world. This program began due to the generous support from the Garneau Nicon Family Foundation and participants like you. These workshops are offered free to all, and we appreciate your support in keeping it going. Thank you!
PAST CREATIVE CATALYST WORKSHOPS (April 2020 – Present)
The Creative Catalyst workshops were started in April 2020 as a way to keep the Partners for Youth Empowerment connected and during the covid-19 pandemic. The series has been a playground for online creative faciltation and though it, we have been able to grow and develop our online trainings.
To see a list of all of the workshops that we have offered in this series, as well as links to the workshop resources, visit our PYE Community Forum.
Click here to see the beautiful Visual Notes from many of the workshops as illustrated by Christopher Malapitan.
THIRD THURSDAY FACEBOOK FORUMS (2013-2020)
The Facebok Third Thursday Live Forum Discussion group provided an online space for facilitators to connect from around the world in deep conversation and learning about creative facilitation practices.