Interview with Gwyn Wansbrough
It was the first day of a 3-week online course in Creative Facilitation.
25 teachers from the Department of Education in Catalunya (Spain), joined the Zoom call, looking curious and not sure what to expect. I had a million questions swirling in my head too. I took a deep breath to calm my nerves. I was just about to start our first activity, when a teacher named Mercedes turned on her microphone. She said, "I'm really sorry. I just found out that I have been in touch with someone who tested positive for COVID-19. I have to let my school know, and make arrangements for digital classes. I'll be right back."
I was speechless for a few seconds. She had just opened a little window into the stressful year that these teachers have had since March 2020, much like others around the world. Alongside the regular demands of their role, they have added responsibility given the special circumstances of the pandemic. This group I was working with is part of the Program for Insertion and Training, which supports students who have dropped out of high school to finish their diploma, while providing hands-on vocational training to increase employability. For the students, who are mostly socially excluded young people, this group of teachers are a lifeline to surviving the pandemic induced restrictions.
The Department of Education in Catalunya engaged me and PYE to deliver a 3-week online course that would equip teachers with creative tools to foster social-emotional skills in students. Some key challenges we aimed at supporting the teachers with, is motivating students to stay in school, and increasing their confidence to see new possibilities for their future. More than anything the teachers wanted to offer hope to the students. Unlike other digital courses that were self-directed, Creative Facilitation was the first interactive online course for the teachers. So, I wanted to lead an immersive experience which they could recreate for their students across digital and in-person settings.
And so, we began. In the style of the Creative Empowerment Model, I led them in a movement-based rhythm with me, to symbolize the journey we were embarking upon. Observing their surprised looks, I was pretty sure they had never started a workshop like this before. Right there and then, the teachers were opening up. They were smiling, and I could sense the tension, pent up from months of uncertainty and stress, starting to melt away with each movement.
To build on this ease and invite more creative thinking, we played an imagination game where one person starts and says "I am a tree." The next person then takes a pose in relation to the tree, like "I am the bird perched in the branch of the tree" and so on. I saw the teachers' eyes light up as they invented new ideas. When we debriefed, they shared that they felt light, and were able to freely share/ receive ideas.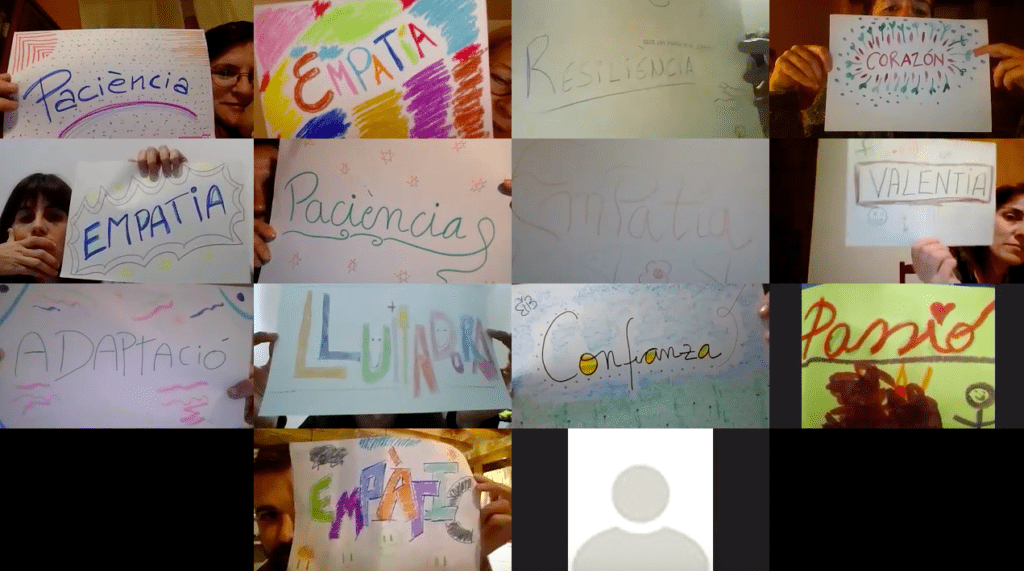 In the week that followed, a teacher named Leandro tried this game with his students. Being a technology teacher, he adapted the game to electrical components. He started with "I am a lightbulb". The students had to think of something related to the lightbulb and strike a pose. One of them shouted out "I am a plug!". The teacher was amazed. The students had never been so engaged in class. Leandro said, "I couldn't believe that such a simple activity would work so well. It was fun and very productive. I now have a more creative attitude towards teaching. It helps me to open up with my students, and that impacts the group's confidence."
Like Leandro, other teachers too challenged themselves to move out of their comfort zone, and experiment with activities. Each week they put their skills to practice and reported back. As we came to an end, one of the teachers said, "I've learned to lose my fear of being creative. This training has given me new ways to help my students build social-emotional skills for their own personal growth."
What did I take away? Reflecting on my experience of those three weeks, I recognize that it is possible to have a creative and empowering learning experience online. It's no less powerful than in-person programs. The sudden switch to online learning has been challenging for everyone. Spacing the training out over three weeks gave the teachers an opportunity to apply their new skills and receive feedback. The training also reinforced the need to support teachers, like Mercedes and Leandro, with techniques to create virtual learning experiences that connect and empower both teachers and students.
Gwyn Wansbrough is a facilitator and social entrepreneur based in Barcelona, Spain. She designs and delivers online + in-person experiential creative facilitation programs for teachers, trainers, teams, leaders, and more. She has been working in the social change space globally for over 25 years, and her most recent role was the Global Executive Director of Partners for Youth Empowerment. To learn more about her work, sign up for her newsletter: https://www.gwynwansbrough.com/newsletter
To get trained on PYE's Creative Empowerment Model, sign-up for our signature programs Creative Facilitation 1 and 2 here.
Authors: Gwyn Wansbrough, Nilisha Mohapatra